Benvenuto nel Learning Centre
Utilizza la documentazione online come guida di riferimento per rispondere alle tue domande.
IntesisBox WiFi Gateway
---
Il componente IntesisBox Wifi Gateway permette di controllare e monitorare il sistema di vari tipi di condizionatori tramite degli IntesisBox Wifi Gateway usando il protocollo IP.
Creazione automatica del gruppo
Come sempre vi viene chiesto di trascinare e rilasciare i componenti necessari nella zona "I miei componenti". La particolarità di questo componente è data dalla creazione in automatico del gruppo "IntesisBox Wifi Gateway" dove sono già aggiunti tutti i componenti necessari per la configurazione. Non solo, anche le proprietà del componente IntesisBox Wifi Gateway sono già configurate al fine di velocizzare e semplificare il processo di creazione.

GUI
Questo componente è realizzato usando il gateway Graphic UI.
Potete far riferimento al capitolo "Gateways / Protocols" per ottenere ulteriori informazioni.
IP: inserire l'indirizzo IP dell'IntesisBox Wifi Gateway;
Device MAC: inserire l'indirizzo MAC del dispositivo;
Note: campo di testo a disposizione dell'admin per inserire ulteriori informazioni sul componente.
Gli altri parametri vengono compilati automaticamente con i componenti del menù Sottocomponenti che prendono le informazioni direttamente dall'IntesisBox Wifi Gateway collegato.
EVE Remote Plus 
---
Tre diverse modalità di visualizzazione: "CLASSICA", "MODALE" e "NASCOSTA". Ulteriori informazioni su modalità di visualizzazione del componente.
Una volta terminata la configurazione del componente IntesisBox Wifi Gateway, per riuscire a controllare il dispositivo dall'app EVE Remote Plus, dovete inserire nell'interfaccia utente il componente Clima già configurato che trovate nel menù Sottocomponenti.
Il risultato che poi troverete sull'app EVE Remote Plus sarà il seguente: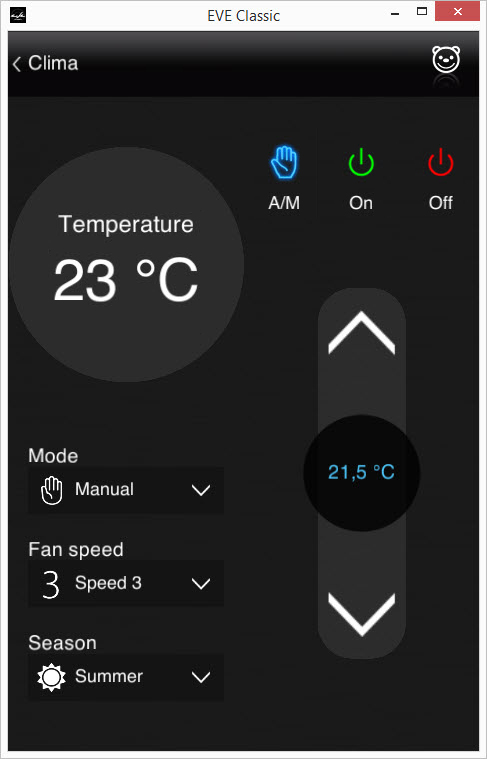 Promemoria prima di continuare:
Download ed installa il plugin EVE Logic per abilitare i plugins (link);
Dopo aver caricato il progetto .eve sul server, attendere un paio di minuti per l'attivazione delle logiche.
Gli IntesisBox Wifi Gateway compatibili con il nostro software sono i seguenti:
– Daikin domestic AC units to Wi-fi interface
– Daikin VRV and Sky systems to Wi-Fi interface
– Fujitsu RAC and VRF systems to Wi-Fi
– AC units with IR receiver to Wi-Fi interface
– LG domestic and VRV AC units to Wi-Fi interface
– Mitsubishi Eletric AC units to Wi-Fi interface
– Mitsubishi Heavy Industries FD and KX6 systems to Wi-Fi interface
– Panasonic Etherea AC units to Wi-Fi Interface
– Panasonic ECOi and PACi systems to Wi-Fi interface
– Toshiba VRF and Digital to Wi-Fi interface
Ben fatto, continua ad apprendere!
Il nostro suggerimento per la tua prossima lezione: