Welcome to our Learning Centre
Use our online documentation as a reference book to answer your questions.
Sample project: Calculator
---
The purpose of this example, which you can download here, is to show you how to use the "Calculator" component within a project.
Preparing and loading the project in EVE Manager:
unzip the file;
open EVE Manager, go to the top left, File – Open – press "Ok" on the message that appears and select the file just decompressed;
Start the virtual machine or the Raspberry;
Download and Install the Logic by following this guide.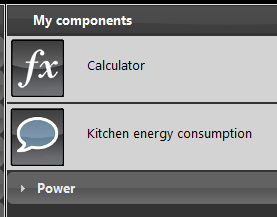 By accessing EVE Manager, after the project is loaded, the components that are used to configure the project are visible in the "My Components" area:
1 calculator
1 Info that will show in the user interface the result of the "Calculator" component
A "Power" group with components to simulate power consumption sensors
In this example we will simulate energy consumption sensors within a kitchen, these sensors will be created using the Slider, Linker and Info components that we will find within the "Power" group.
Place yourself in the "Calculator" component to see its configuration:
our goal is to calculate the total energy that is consuming three devices inside a kitchen;
we insert the three "Info" components, which are connected to the value of the consumption sensors in the first three parameters;
in the "function" field we have entered the sum operation of the 3 values;
we have set that the result is be inserted in the "Kitchen energy consumption" component.
The "Calculator" component not to be inserted within the user interface.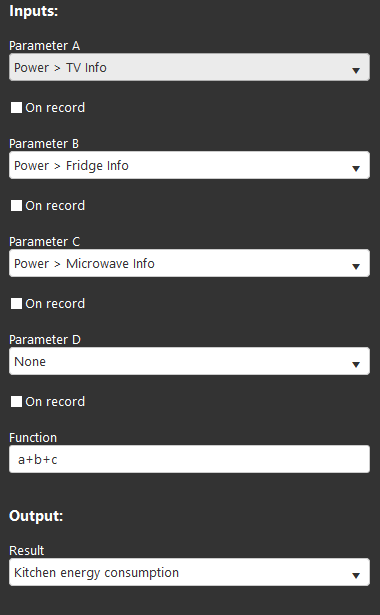 After uploading the project to the server, clicking on the top of the EVE Manager on "Project" menu – Upload to server, here enter the IP address of the virtual machine or Raspberry, as the "admin" user and as password "password", login to the EVE Remote Plus app.
LOGIN ACCOUNT  user: admin  password: password
In the interface to enter a consumption within one of the devices, press over their icon and move the cursor, we will see that the Info component "Kitchen energy consumption" changes according to the values ​​entered in the various devices.