Welcome to our Learning Centre
Use our online documentation as a reference book to answer your questions.
IntesisBox WiFi Gateway
---
The component IntesisBox Wifi Gateway allows you to control and monitor the system for various types of air conditioners through the IntesisBox Wifi Gateway using the IP protocol.
Automatic group creation
As always you are asked to drag and drop the required components on "My components" area. The particularity of this component is given by the automatic creation of an IntesisBox Wifi Gateway group where all the necessary components for its configuration are already added. Not only this, also the IntesisBox Wifi Gateways's properties are already configured in order to speed up and simplify the process of the IntesisBox Wifi Gateway creation.

GUI
This component's sample is made by using Graphic UI gateway.
Please refer to "Gateways / Protocols" chapter in order to get further info.
IP: enter the IP address of IntesisBox Wifi Gateway;
Device MAC: enter the MAC address of the device;
Note: text field available for additional information on the component from the admin side.
The other parameters are automatically populated with the components of the Subcomponents menu that take the information directly from IntesisBox Wifi Gateway connected.
Once configurated the component IntesisBox Wifi Gateway, to control the device from the app EVE Remote Plus, you have to insert in the user interface the
Clima
component already configured that you find in Subcomponents menu.
The result you will find on the EVE Remote Plus app will be as follows: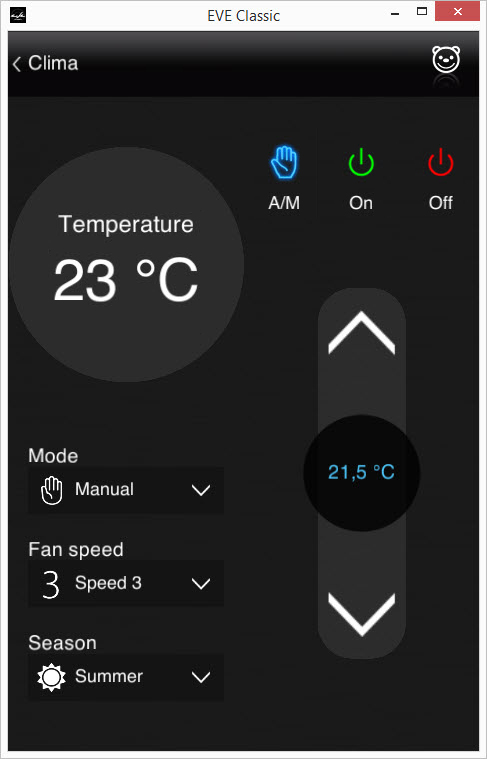 Reminder before continuing:
Download and Install EVE Logic plugin to enable plugins (link);
After loading .eve project to the server, wait a couple of minutes for logics activation.
The IntesisBox Wifi Gateway compatible with our software are the following:
– Daikin domestic AC units to Wi-fi interface
– Daikin VRV and Sky systems to Wi-Fi interface
– Fujitsu RAC and VRF systems to Wi-Fi
– AC units with IR receiver to Wi-Fi interface
– LG domestic and VRV AC units to Wi-Fi interface
– Mitsubishi Electric AC units to Wi-Fi interface
– Mitsubishi Heavy Industries FD and KX6 systems to Wi-Fi interface
– Panasonic Etherea AC units to Wi-Fi Interface
– Panasonic ECOi and PACi systems to Wi-Fi interface
– Toshiba VRF and Digital to Wi-Fi interface
Well done, keep learning!
Our suggestion for your next lesson: