BLACK LEAF
LEAF is a photovoltaic supervision system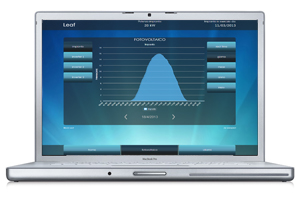 Black LEAF is made to achieve this goals:
monitoring costantly the plant energy production;
update the user about the energy production and events through mobile devices;
find and alert immediately defective components of the plant making the maintenance easier.
Efficient Beautiful Design
The great number of features are easily accessible with a simple, complete and beautiful design, that gives to the user all the necessary information using web pages compatible with all smart devices and browsers.
It can be also used to show energy production on big panels of any kind to people with information, graphics, summary ect. All content can be customized.
Made to simplify
Black LEAF is the perfect mix between features, simplicity and graphic design typical for ilevia software. Not only the user interface is comfortable, also the configuration software is made to simplify the technician's job.
The detection of all the components is plug & play, this means the installation of Leaf is the quickest.