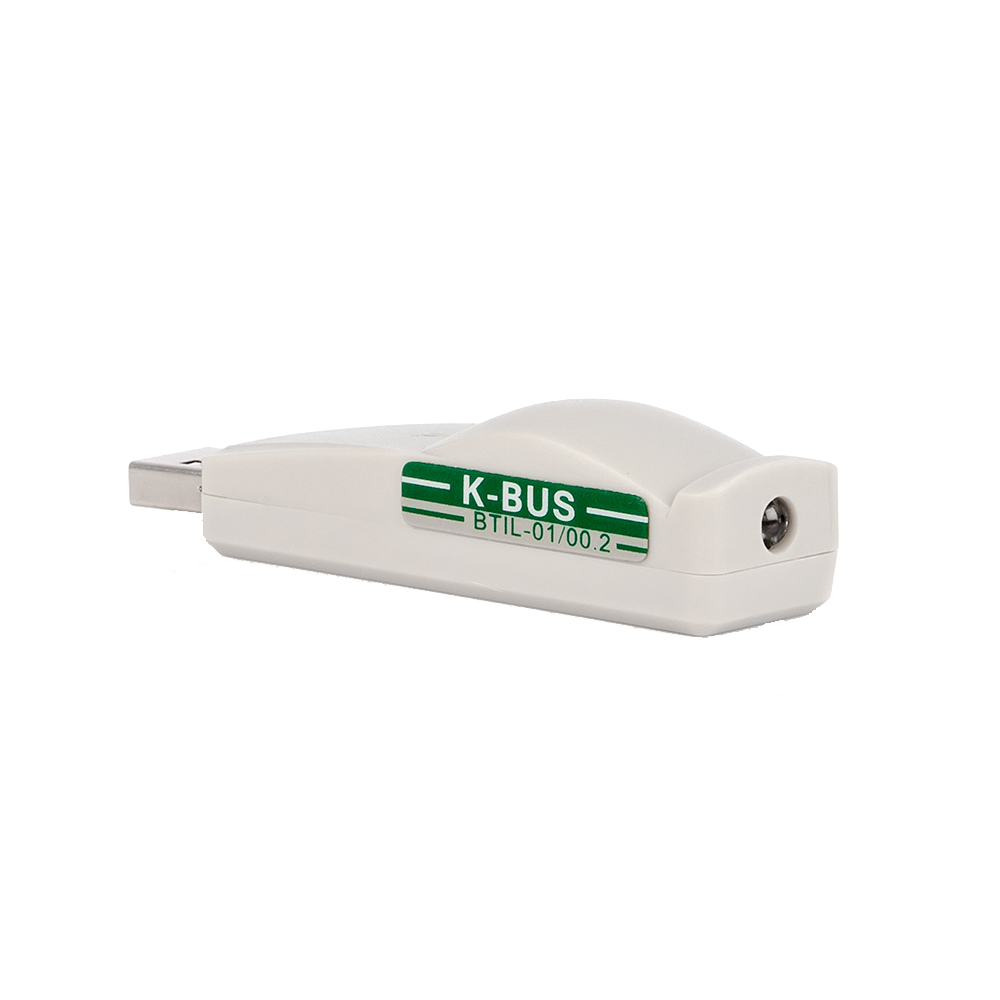 ORDERING CODE
BTIL-01/00.2
DESCRIPTION
IR Learning combine three parts, PC Software, IR Learner and IR Emitter. The IR Learning can be used for learning control code of the IR Remote Controller, and storing the code to the database in the PC software. The learned control code can be stored, deleted or tested in the software. The IR Emitter has 4 channels. Usually, we use one channel to control one IR Remote Control device. The IR Learning can learn up to 64 functional control codes for each channel. The IR Learning is consist of PC Software, IR Learner and IR Emitter. The PC Software is used for config the functions, like physical address, group address, scense call, etc. IR Learner is connected to the PC via USB interface and used to learn the control codes of the keys of the IR Remote Controller. The learning process is realized by operating the software, and you should put the IR emitter on the remote control near to IR detector on the IR Learner as close as you can to avoid the failure of learning. The IR Emitter is connected to the EIB/KNX bus dirrectly using the EIB bus connection terminal. As the configuration has been finished, the PC software can download the learned control code to the IR Emitter via the KNX downloader, which has been connected to the KNX/EIB bus. After success to download, the IR Emitter can control the switch, wind speed and timing of a fan, as well as the IR remote control devices, such as DVD, TV,
Air-Condition, Fan, etc. through sending telegrams on the KNX bus by other devices in the EIB/KNX system. This manual provides detailed technical information about the IR Learning for users as well as assembly and programming details, and explains how to use the IR Learning by the application examples.
FUNCTIONS / CHARACTERISTICS
4 channels
Learning and storing up to 64 different IR functional control codes for each channel
Sending time and sending delay can be set for each control codes
Each main function can include 5 slave functions, this way is suitable for controlling several functions via one object at a time
You can set the emittion times and the delay time before sending for each function code.
A channel can link up to 16 group addresses
The IR functional control codes can be assigned to 1bit or 1byte type of object
1bit object can recall the control codes from all channels
1byte object can recall the control codes from its own channel
The IR Learner uses a common USB port to communicate, it is easy to learn the functional control codes of the IR remote
controller and store the codes to the database of the PC Software
Can learn more than 95% of remote controllers in the market
Each channel can take over all of the functions described above.