Welcome to our Learning Centre
Use our online documentation as a reference book to answer your questions.
The browser will display a list of all the IP addresses of all the Servers in the network. In presence of a single EVE Server in the network you will directly land on the admin panel login of the only EVE Server connected to the local network (as shown in the picture).
On the admin panel login you'll find all the most important information about your Server: firmware version, license ID and status, public IP, MAC address.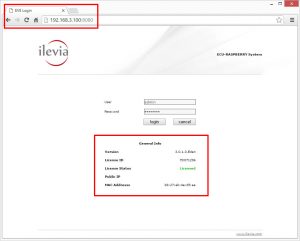 Login with your username and password (default are 'admin' and 'password'). Once successfully logged in, the navigation menu will be display in front of you.
Click on Information menu to get general information about your Server license ID and status
Send an e-mail to support@ilevia.com writing the "Unique ID" code of your EVE Server
Wait for our reply before proceeding with the next step
In case you need to activate more than a license, we suggest you to prepare a Raspberry at a time.
Get the Unique ID of all your EVE Server licenses and send the codes list to support@ilevia.com
The activation requires about 2 minutes so please wait a moment then update the page
Check "Hours Life" value. As soon as the server is licensed, this value will change from 168 to -1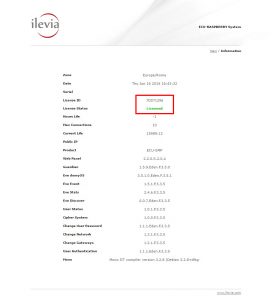 Well done, keep learning!
Our suggestion for your next lesson: