EVE can control everything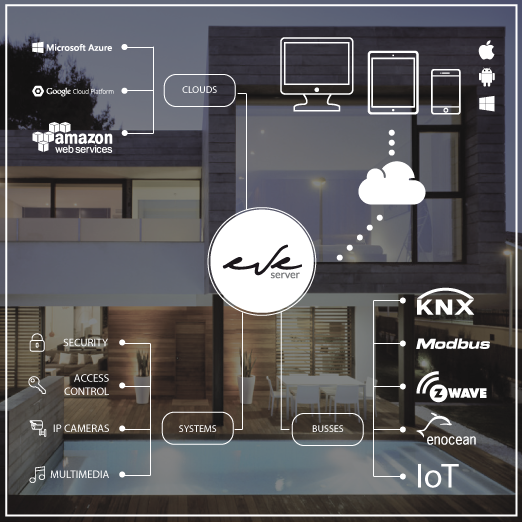 MULTI-PROTOCOL INTEGRATION:
CONNECT ANY SYSTEM OR DEVICE
EVE server is the core of the whole system. Its most appealing characteristic is the compatibility with the most well known protocols for home and building automation. EVE can manage several different protocols at the same time, both standard and proprietary, allowing for true freedom of brands and choice. EVE can communicate with all of the installations devices for security, access control, temperature control and audio / video through specific proprietary protocols. EVE server can also manage My Home and By Me systems.
LIMITLESS POSSIBILITIES
WITH AN ONLY ONE DEVICE
The system includes the Universal Gateway, a tool that allows communication between all standard and proprietary protocols supported by EVE. Through the Universal Gateway it is possible to connect systems based on different buses like KNX, Modbus, Z-Wave, My Home, Vimar and many other systems. This is a real advantage for the user, due to the fact it avoids the cost of an external gateway, otherwise necessary to run these functions. With this capability, you don't need anything other than EVE.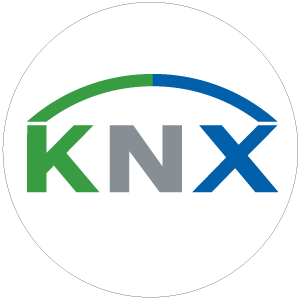 KNX is the home and building automation world recognized standard. Due to the exceptional stability the KNX system can guarantee, a large number of International manufactures have invested heavily and have long-term commitments to this technology. This will ensure KNX devices will be available well into the foreseeable future and beyond.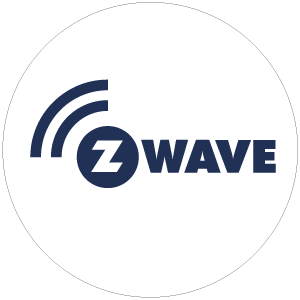 Z-Wave is one of the most known wireless systems specifically developed for home and building automation. This technology opens up possibilities for retrofitting and renovations. The majority of International manufactures incorporate Z-Wave in conjunction with KNX.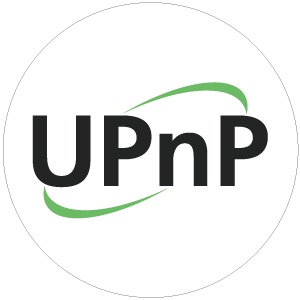 UPnP technology targets home networks, proximity networks and networks in small businesses and commercial buildings. It enables data communication between any two devices under the command of any control device on the network. UPnP technology is independent of any particular operating system, programming language, or network technology.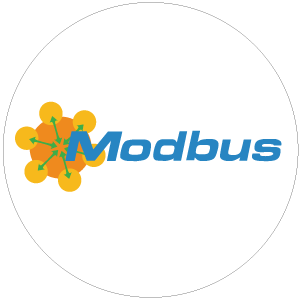 Modbus has become the standard in industrial communication and is currently one of the most common used connection protocols in the world of heating, ventilation and air conditioning. Modbus has been in existence since the inception of the industry and for this reason most integrators have a special understanding and history with it.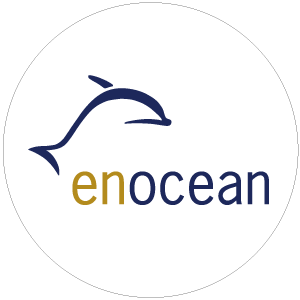 EnOcean is the only wireless and battery-less system in the world for use in building automation and smart homes. Energy harvesting wireless technology has the advantage of eliminating wiring as a problem. EnOcean devices also have low power consumptions.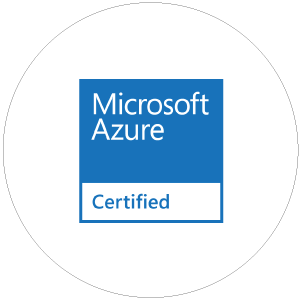 The Microsoft Azure Certified for IoT program helps businesses get started on their IoT projects by connecting them with an ecosystem of partners. Partners who are showcased in the Azure Certified for IoT program are trusted partners with tested and certified offerings who can help businesses with their IoT device and hardware needs.
Heating Ventilation & Air Conditioning
Intrusion Detection, CCTV & Access Control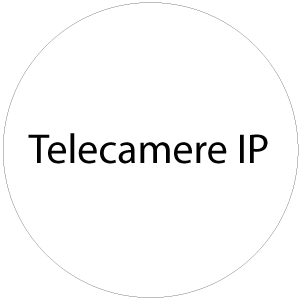 Home & Building Automation