EVE and Amazon Echo, voice command for your home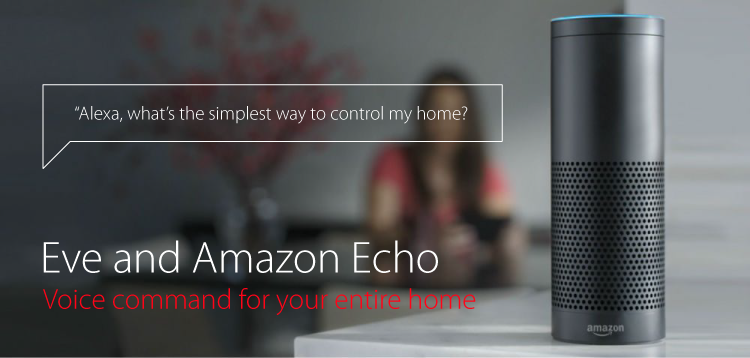 For this 2017 we planned a dense
program of innovations
that will further enrich the
EVE platform
, used both in
home automation
and in
IoT
(
Internet of Things
). Just a few weeks ago, with the presentation of a highly innovative project during the official inauguration of the new
Microsoft Technology Center
in Milan, we announced the integration of
Microsoft's voice personal assistant "Cortana"
and today we are announcing with great enthusiasm also the integration of
Amazon Echo
devices.
Amazon's smart speakers (Amazon Echo, Echo Dot and Amazon Tap) equipped with the Alexa voice assistant technology are also debuting in Italy (currently only available in three other countries) and the home & building automation system EVE Is ready to welcome them. The world's digital giants, Microsoft, Google, Apple and Amazon, have been competing for a long time to become everyone's reference for interaction with technology in the home environment, and ilevia follows closely to ensure their own customers an always technologically innovative product.
In addition to accessing the originally integrated services (music play, access to information, news, weather forecasts, and more), the new ability acquired by the EVE home & building automation system gives its users the ability to control their home through simple and intuitive voice commands. EVE customers from the United States, the UK and Germany can now use their voice to control individual devices (lights, thermostats, alarms, and multimedia) or to activate pre-set scenarios by the installer to facilitate daily routines. Using Alexa is easy, just make a request to control your entire world, even through smart watch.
Say, for example, "Alexa, ask EVE to turn on relax" to activate the programmed scene that will lower the lights in the living room, set the thermostat, and turn on the TV on the preset channel – all with a single voice command. Or even, "Alexa, ask EVE to turn off the house" the command can shut down the house by turning off all the lights, lowering the thermostat in night mode, and blocking the doors by triggering the alarm. In short, Alexa will be able to lead EVE doing any action you want, even on individual devices, such as controlling the intensity of a specific light spot.
Technological evolution seems to run very quickly. In particular, the artificial intelligence applied to home automation, the heart of smart homes, is one of the hottest trend of the electronics industry, and that is why we will continue to monitor not only the great digital innovators but also the electronic producers present on the whole world to allow EVE users, and users of EVE-controlled home automation systems (Vimar and BTicino) to access all the technological innovations that our time can offer for a total personalization of their home environment.