LEARNING CENTRE
Support step by step, video guides, use cases.
Contents
Introduction
Guidelines
EVE Suite
Introduction
---
EVE Suite is a set of softwares and hardwares in constant evolution. EVE Suite was developed by a group of system integrators with the aim of being always updated with the growing needs of a changing market. Indeed EVE was born in 2005 from a dream of few programmers and SAE Impianti, an electrical company settled in Bassano del Grappa (VI). SAE Impianti is a company which is present in the market from over 50 years. SAE Impianti succeeds on showing the way to satisfy customers while keeping speed and ease parameters of the software.
Guidelines
---
Since the beginning, the guidelines which have lead us in the design of the system have been:
STABILITY
Installations should never cause problems to the installer at the end of the work. Any software has problems, especially early on. This is the reason why ilevia started marketing the software only in 2009, after testing both the basic functionalities and the structure of the system.
SPEED OF RESPONSE
Remote access via smartphone must give an instant response, as if you pressed a wall button. This is what anyone does expect when thinking of an automation system. This is the reason why the developed software does not work through the classic web pages (web server) but rather through the "socket", a mechanism that creates an instant and bidirectional communication channel between the device and the server (client-server). Thanks to the client-server method, command performed through the smartphone requires a tenth of a second to be performed rather than a few seconds of the web pages system.
MULTIPROTOCOL
Any system integrator would like to choose and integrate products that best suit the needs of the project. Unfortunately it is common that the home automation system is not compatible with heating system, multimedia system, access control and others. Thanks to EVE Suite this is not a problem anymore for the most commonly used protocols such as KNX, Modbus, Vimar, BTicino, IRTrans, RS232, Ethernet and others).
MULTIPLATFORM REMOTE CONTROLLING
Nowadays an home automation system without the possibility to be controlled from smartphone and tablet is not even thinkable. For this reason we need to give anyone the opportunity to be able to use device, be it a mobile device or a PC, to access the home automation system. EVE Suite makes the App available for both PC, Mac or Windows, and mobile devices, Android, Apple iOS and soon also Windows Phone.
TOTAL INTERNAL DEVELOPMENT
The necessity of being always ahead and to constantly update the software with new features and protocols suggested by system integrators make it imperative have under control all aspects of the software. We internally develop all the involved softwares. On this way, we are able to quickly manage support requests and new functionalities integration requests. Infact, it is not necessary to consult third-party companies to know whether, when and how we can make the required changes.
HARDWARE INDEPENDENCE
The Server part of EVE Suite runs on Linux operating system. It has been chosen both for its stability and security than for the possibility of installing it on several devices. On this way in the future you will not need to look for an equal server. In case you will need to make replacement, you will have the possibility to choose one of the alternatives that we chose for you. To date there are three possible solutions where to install the server: virtual machine , RaspBerry Pi otherwise ilevia devices, whose board has been carefully selected and on which we give guarantees of stability and lasting at least of five years. EVE Suite software is the same regardless of the hardware solution choice.
CUSTOMIZATION
Not everyone has the same needs and likings. Being able to customize whether user interface or the configuration part makes EVE Suite ready to be used as a base by other companies seeking to offer its customers configurable and remotable systems. It could be the case of companies that need to allow customers to manage and configure machines of their own production.
SAFETY
Safety is an important aspect of the system. Hackers are a potential hazard. The use of socket with crypted communication and access with login / password offer more security than normal web pages that are violated every day.
LOCAL SERVER
In the current market there are automation systems that do not foresee the use of the server or they delegate part of the local server functionalities to a centralized one on the internet (cloud). We believe that these solutions are insufficient to give a good service to customers. Infact in these solutions there are many deficienties and inefficiencies that do not allow the system to function at its best. EVE Suite provides a local server that allows both the integration of various protocols that performance of functionalities in real-time on devices of the system (data recording, alarms, events, calendars).
THOUGHT FOR SYSTEM INTEGRATORS AND INSTALLERS
The entire system is designed so that once the installation is completed there won't be problems later, even after years of operation.
REMOTE SUPPORT
Every aspect of the system regarding the project and any upgrade of the server can be simply programmed and configured remotely.
SIMPLIFICATION
The time required for the creation of a project is decisive to perform a competitive bid. So we try as much as possible to add and improve all the features that allow the installer to save time in the preparation and subsequent modification of a project.
SALES CONDITIONS
Also from the commercial point of view we thought to facilitate the system integrator. Infact, the EVE Suite software solution places no limits on the number of devices, of users, of software functionalities, of additional modules, of protocols etc. that he can use in the project. EVE Suite is provided as a complete package with all its functionalities at a single price. This greatly facilitates the preparation of quotations as it is not necessary to define in advance what the customer wants and avoid useless discussions about the addition of unexpected forms later.
FUNCTIONAL CONTINUITY
This is an aspect that is often underestimated. The customer, especially if companies, can not remain without automation, even for short periods. With other systems, in particular those with specific hardware, in case of failure it is necessary to replace or repair of the device with the relevant shipping times causing inconvenience for the customer. With EVE Suite this danger is totally avoided. You only need to install a virtual machine on a client pc or prepare a RaspBerryPi preconfigured. In case of problems, customer can activate the virtual machine and return to having all the operating functions immediately and in total autonomy.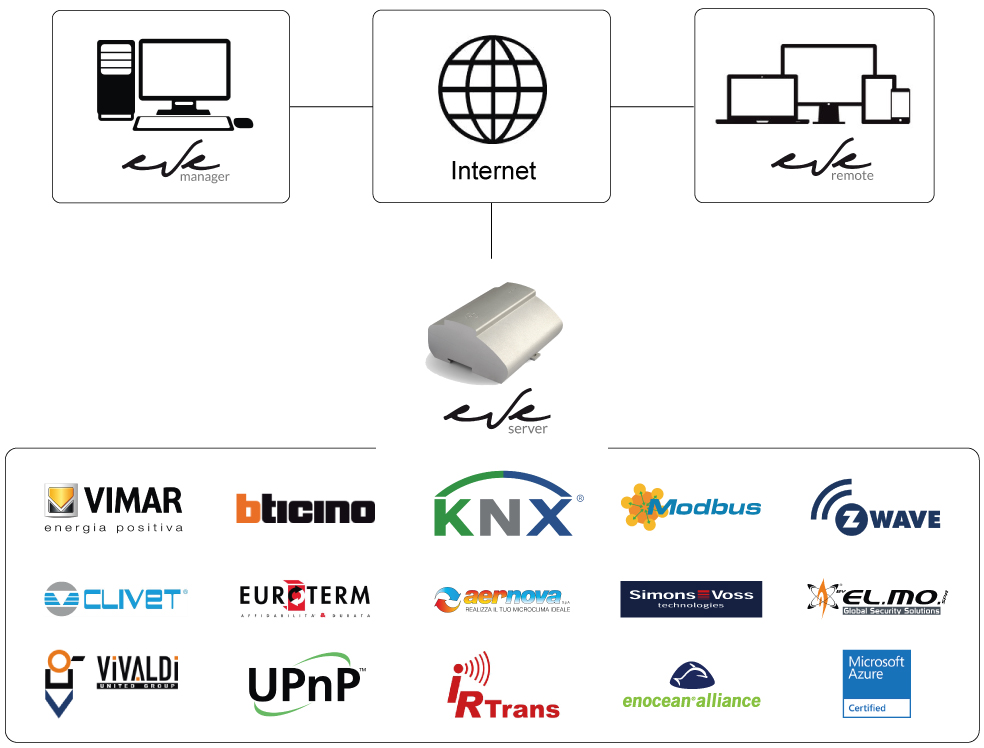 EVE SERVER
A project needs to devices to be installed in the building such as actuators, buttons, sensors, alarm system, cameras, heating/cooling system, audio/video system, etc. In order to control and make communicate all devices together you need a "brain" always in action. EVE Suite takes care of managing the system changes and takes action through the various bus. At the same time it takes care of the connection between users to provide the ability to control devices remotely. Also it processes data to generate graphics or generates alarms by sending messages or notifications to whom it may concern.
EVE MANAGER
EVE is the software that is used by the system integrator to configure the automation system. It allows system integrators to import ETS projects, add events, timers, sequences, define the smartphone client user interface. It works on both Windows OS and Mac OSX.
EVE REMOTE
EVE Remote is the software that the end user uses to control the building, it is the official App of EVE system for PC, smartphones and tablets. System integrator is able to define a specific interface for each user or device with the required checks through EVE Manager software. The App is the same for PC, Windows and OSX, and tablets and smartphones; the graphic result is optimal on each device while having several systems and different screen sizes.
EVE LOGIC
EVE Logic is a module which is thought to be separated from the core of the system. On this way, new plugins installation, plugins updates and changes can not affect the system operation. This makes EVE stable and at the same time gives to it the capability to be extended with new features and protocols at any moment.
EVE MONITOR
EVE Monitor is the software that allows you to watch and record system events remotely.
It is very useful in determining faults and, in more complex projects, in the analysis of the logical operations.
Well done, keep learning!
Our suggestion for your next lesson: EVE SYSTEM SETUP
This guide leads you on EVE setup providing downloads and detailed instruction to make the system up and running.